Banquet Hall rental in Charlotte NC
Wedding receptions, corporate events and much more
On the most important day of your life, it is important to choose the right setting for your special occasion. Wedding receptions will be remembered forever and your special day should not be entrusted to just anyone. SMS Catering Service can make your special day even more special with one of the best banquet halls in Charlotte. Our banquet hall is not limited to weddings as we have also hosted many private parties, anniversaries and corporate events. The design and layout of our hall can accommodate large groups of people while our venue is also packed with personality. There is an atrium on site along with a beautiful lawn area, perfect for outdoor activities that may be part of your next function. A large patio and beautiful fountain add to the natural flow as well as adding an extra touch of ambiance. There is also a 9×12 projector, giving you the option of showing a slide show during your next event. All of these amenities make up one of the truly spectacular wedding venues in Charlotte, NC. SMS Catering Service offers more than just great catering, but a quality place where your special occasion can truly become a memorable one. When it comes time to search through all the different banquet halls in Charlotte, look for the one that has been leading the industry for over 40 years.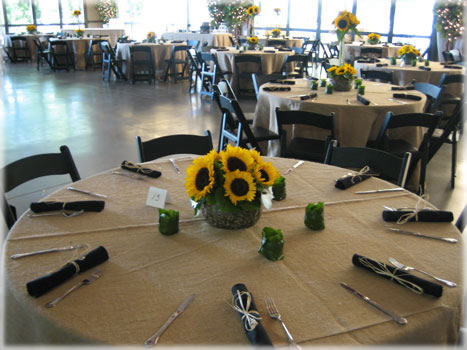 If you are looking for a truly great venue in Charlotte for a luncheon, cocktail reception, wedding, or other event, we can help you create the right environment for a truly special occasion at our private party facility. The SMS Atrium is situated on 8 ½ acres with plenty of free parking. The room has large sliding glass doors that open to an enormous patio with a spectacular fountain. Beyond the patio, guest can enjoy volleyball, basketball, miniature golf and horseshoes on the lawn.Catering Facility With a talented staff and a wide array of available accommodations, we are committed to helping you make your business meeting successful with our 9×12 screen with projector, wireless internet and ample space for team building activities; make your party a smash hit with all the games and activities; or your wedding an occasion you will treasure for a lifetime and your guests will talk about for years to come.
At SMS Catering Services, we strive to provide the highest measure of service through meticulous attention to detail. We are experienced and knowledgeable in handling every aspect of event planning, from assistance with menu design to clean up, and we can recommend a variety of other services. To reserve a date or to speak with our banquet coordinator, please contact us at (704) 504-7344 today.
Consultations are always free!
---
SMS Catering Banquet Hall