Corporate Catering comes with a wide variety of choices as it can be an exciting break in the monotony of a workday. The next time you find yourself planning a corporate event, consider the following options to spice things up a bit.
The Healthy Continental Breakfast
There is no reason a continental breakfast has to include doughnuts and bagels loaded with cream cheese. There are also several ways to brighten up a continental breakfast, one being with a vibrant fresh fruit selection. Yogurt parfait, sliced cucumbers and fresh juice could add to the overall healthy selection and brightness of this morning-time corporate break.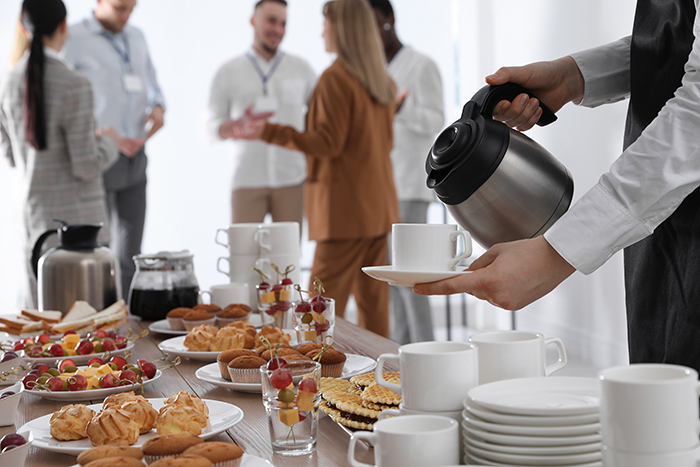 Gourmet Salads
When salads come to mind, many people think of a traditional salad and picture the basics. However, a corporate event can now feature a top-of-the-line salad bar with all kinds of unique menu items. Fresh cheeses, smoked salmon, grilled shrimp and dried fruits are just a few of the items that can elevate a specialty salad bar. The addition of some cooked proteins will allow everyone to eat their fill.
A Trip to The Bar
Hosting a corporate event with a food bar that lets you build your own meal can be a refreshing change. The type of bar could range from such things as a taco bar, fajita bar or potato bar. A dessert bar can also be a fun afternoon twist. Adding your own toppings also allows each individual to personalize their meal. The possibilities can extend far and wide while this type of setup allows time for networking as well.
Indoor Picnic
Corporate workers are not always able to get outside on a nice summer day. But corporate events can bring the outdoors inside with an indoor picnic. Picnic baskets could include whatever menu items you want as the theme allows for a good deal of flexibility when it comes to food selection.
Tapas
A tapas menu includes a variety of snacks and appetizers that follow one another. There are plenty of ways to elevate a tapas menu, which could include grilled prawns, crab empanadas and serrano ham fritters. There is the option of keeping it more traditional or making the tapas menu items a little more mainstream.
SMS Catering Services can accommodate all types of corporate events, both small and large. When it comes time to hire a catering service in Charlotte, contact the team of experienced professionals at SMS Catering Services as we can make your next event a memorable one.